HIGH PERFORMANCE INDUSTRIAL COATINGS
We offer our expertise and innovative solutions for the protection and maintenance of tanks and pipelines.
Our broad portfolio of industrial coating technologies is the result of years of research, innovation and development. We have longstanding experience in petrochemical applications for extraordinarily challenging conditions, such as high pressures and extremely corrosive environments.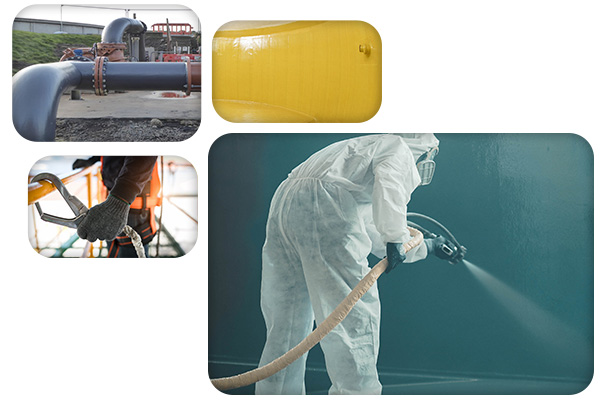 Safe storage and transport of liquids
Thanks to the constant in-house developments combined with the practical know-how we have acquired over the years, we provide excellent technologies for the lining and renovation of liquid storage facilities. Whether high chemical resistance, food-grade requirements, severe weather conditions or single-to-double-wall refurbishments, our priority is to ensure the safe storage and transport of liquids, with sophisticated products that extend the lifetime of both storage tanks and pipelines.
We promote solvent-free and non-flammable resins to minimize the environmental and HSE impact for all operations. Moreover, our no-man entry solutions are the state of the art in the industry.
We support our customers all around the world by protecting their assets with technologies developed and certified according to national and international standards. The main industries in which we operate are:
Terminals & Storage
Coatings to withstand continuous contact with crude oil, petroleum products and fuels as structural and semi-structural coatings.
SERVICE STATIONS
Upgrades of service stations to avoid soil and water pollution as well as fuel loss with our patented double wall technology DOPA.
Public & industrial water
High-quality solutions for the sealing of water sumps, vessels and pipes, irrespective of whether it is fresh, hot, salt or wastewater.
Our industrial coatings in figures
Commercial, above ground and underground tank renovations
Leak detection systems for tanks and double-walled pipelines manufactured and installed (of which 1,000 remotely monitored)
Subscribe to our newsletter